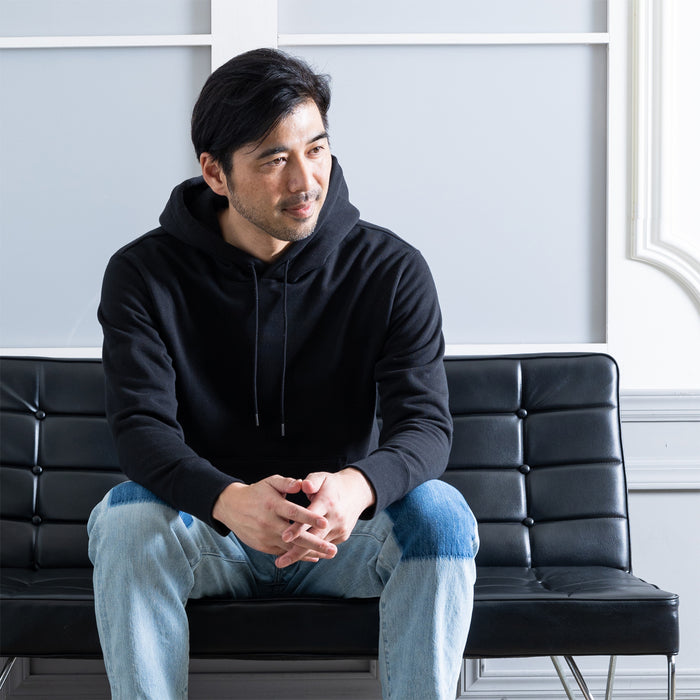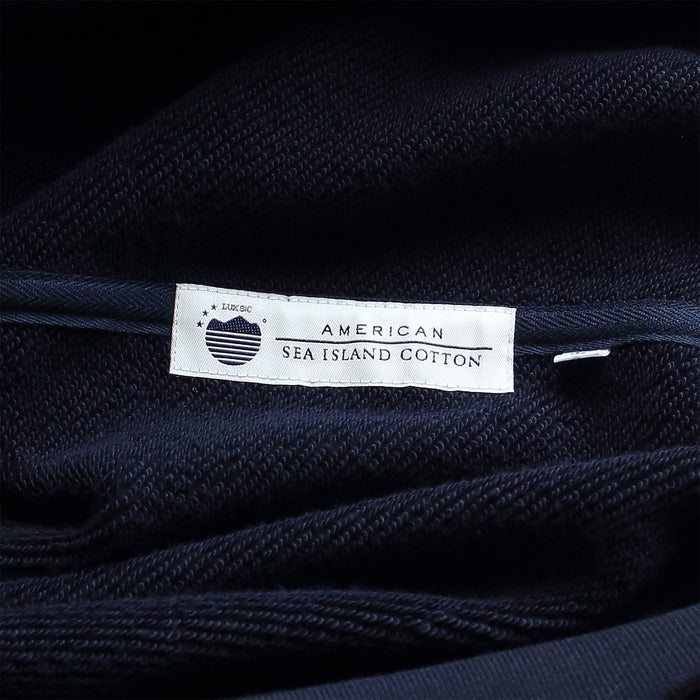 Sweat pullover hoodie with a fluffy, gentle fit created by Sea Island cotton and loopwheelers.

Sea Island cotton is the highest quality cotton known as the "jewel of fibers" and the "miracle cotton". This product is made by knitting American Sea Island cotton yarns on a rare vintage knitting machine that can only knit 1 meter per hour, resulting in a hoodie that is both fluffy and gentle to wear, and durable enough not to lose its shape after washing.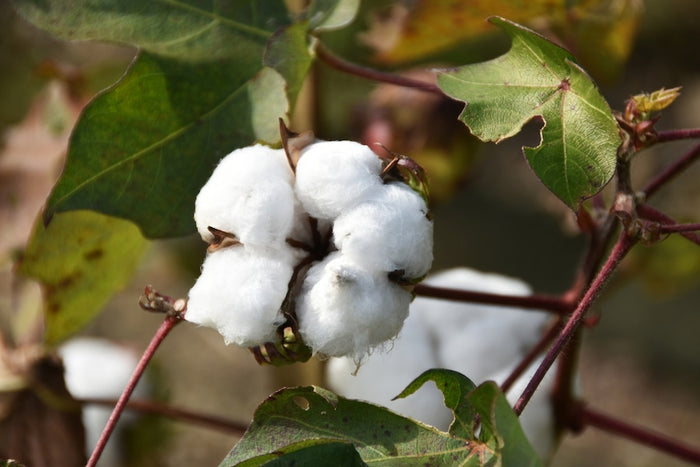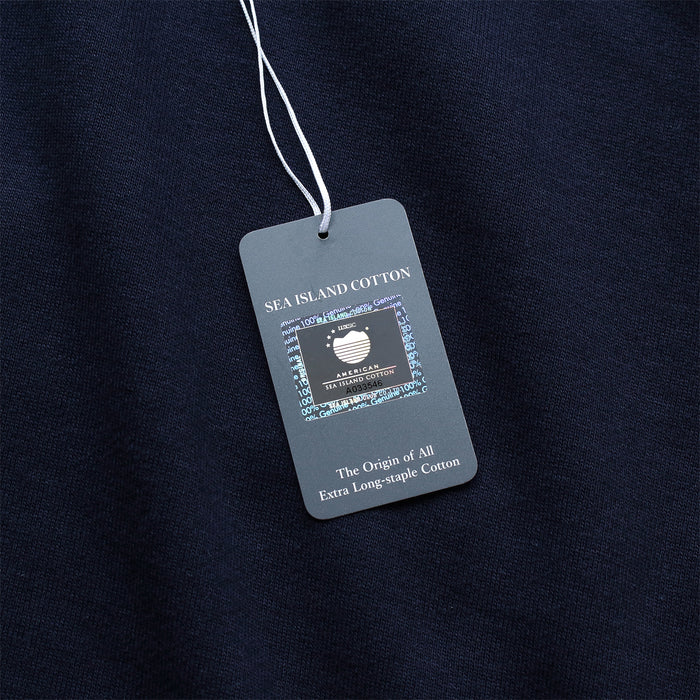 Sea Island cotton, considered the highest quality cotton.

Sea Island cotton is the source of all extra-long staple cotton (ELS) as all the world's extra-long staple cotton (Pima, Giza, Suvin, Xinjiang, etc.) is descended from Sea Island cotton. Smooth and soft like cashmere. It has a silky, lustrous, and elegant sheen, and exhibits a fluffier and softer taste than any other cotton, with outstanding moisture absorption properties.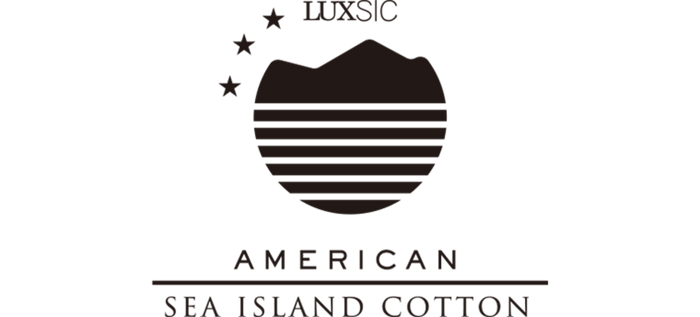 American Sea Island Cotton (LUXSIC)

The "Sea Island cotton" was named after the cotton grown in the 18th century when the West Indian Gossypium barbadense ("cotton encountered in Barbados") was brought to the Sea Islands, off the coast of South Carolina in the USA. However, at the beginning of the 20th century, Sea Island cotton cultivation in the USA disappeared due to pest damage. One hundred years later, thanks to advances in agricultural technology and the passion of technicians, American Sea Island Cotton (LUXSIC) was revived, inheriting the DNA of those days. This material, which is used by many prestigious brands, has been adopted for this product.
A loopwheeler that can only knit one meter per hour.

A loopwheeler is an ancient type of knitting machine that can knit only about 1 meter per hour; it is said to have been developed in France around 1816, but nowadays loopwheelers are few and far between worldwide, and in Japan, only a few factories in Wakayama Prefecture operate them.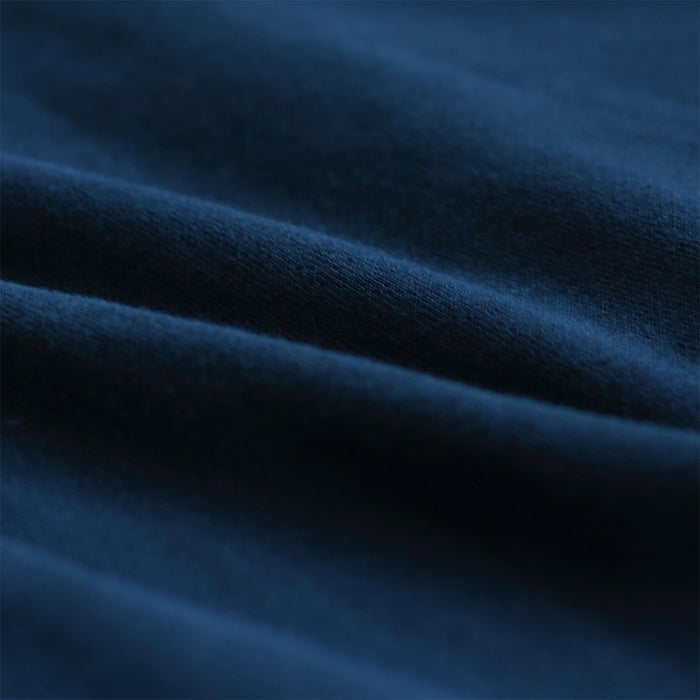 Loopwheeled fabric characteristics

The yarn is knitted slowly and carefully on a loopwheeler, leaving a generous amount of space in the knit so that the yarn is not overloaded, and the soft texture of the yarn itself can be made into a fabric without damaging it. This gives the fabric an exquisite volume as if it were knitted with air, and it is soft and firm, with little shrinkage after washing, so it hardly loses its shape.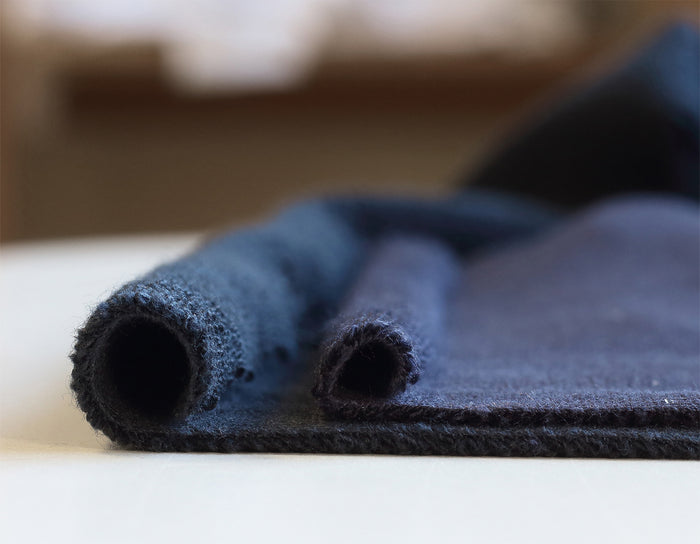 *The left image shows the loopwheeled loopback fleece used for this product, while the right is the typical lining.
The inside is not brushed but is lined with cotton loops, which are highly moisture absorbent and can be worn all year round.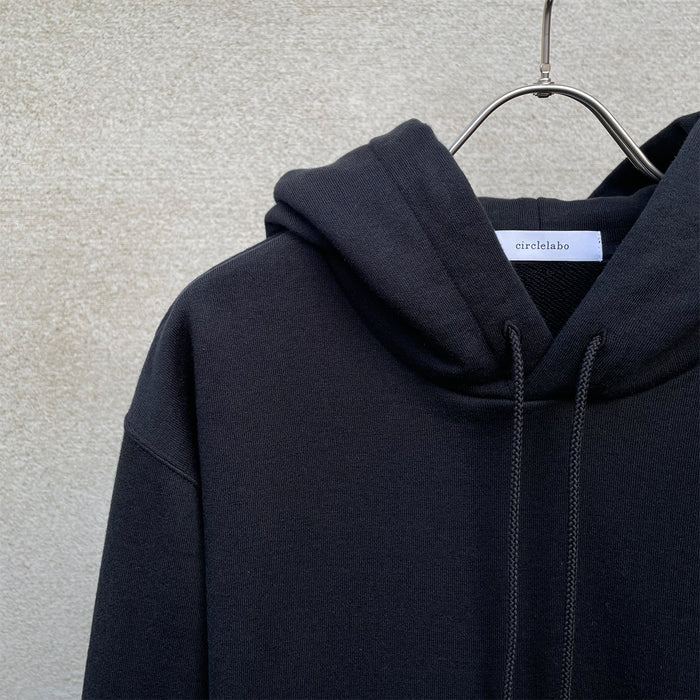 Three-dimensional hood with good rise

The hood part is not flat and has a three-dimensional hood that stands up well because it uses a fabric with a fleshy feel.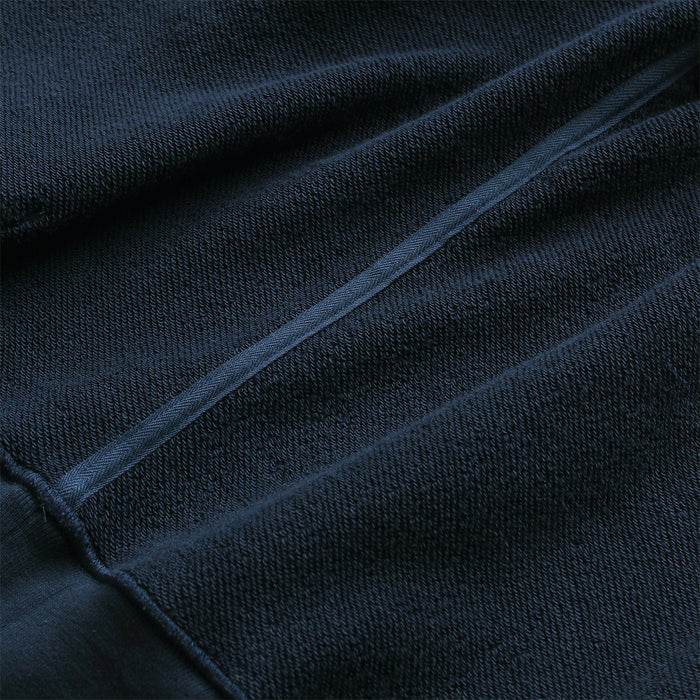 Even the backside has been taken care of.

Seam allowances on both sides, sleeves, and shoulders are all covered with tape to improve comfort, durability, and aesthetics. It is carefully finished to the end of the back side that is not normally visible.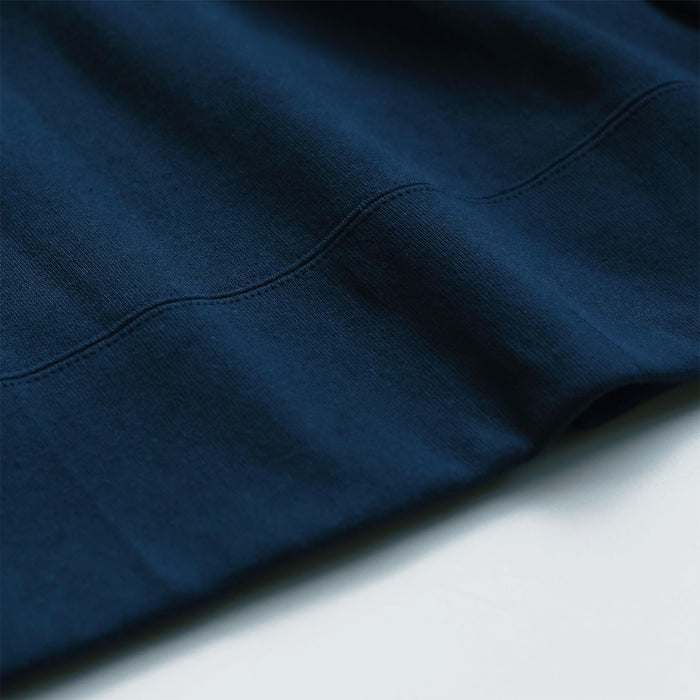 Sleek silhouette with less constrictive ribbing

The hem rib uses a long rib of about 9.5 cm. It uses sturdy ribs that won't get twisted even after repeated washings. In addition, the ribs are not tight, so it creates a silhouette that falls straight down, and the ribs do not rise while you are wearing it and the fabric will not accumulate around your stomach.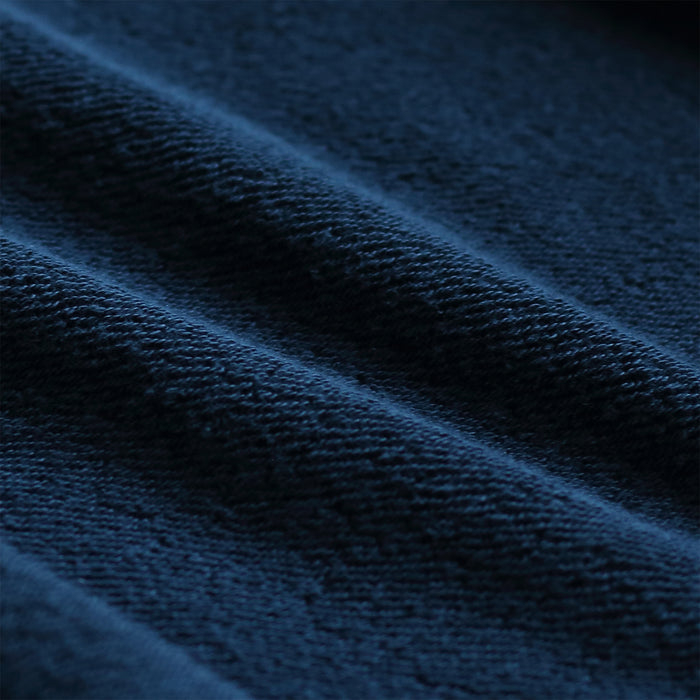 Lining is lined with a pleasant-to-the-skin fabric.

The lining is made of fleece material that is soft and comfortable against the skin. It gently wraps your body. It is also a point that you can wear it for a long season.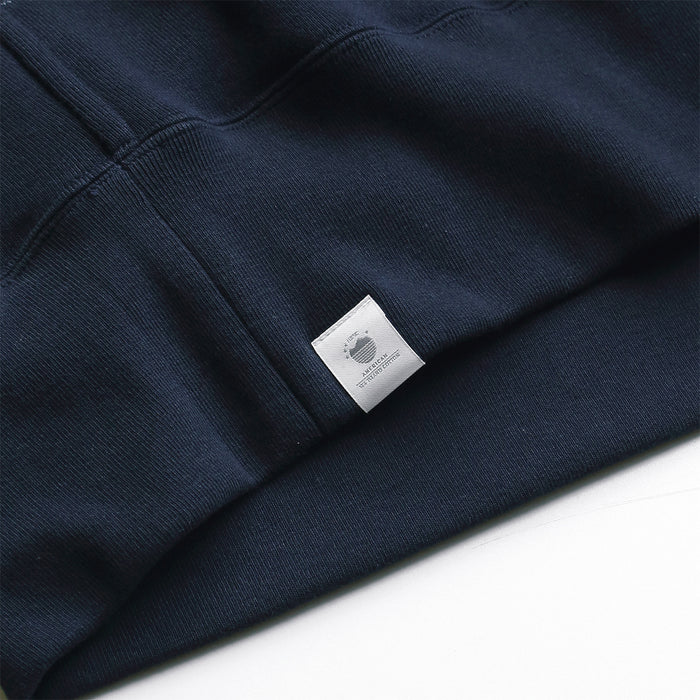 The hem has a woven label that proves that "LUXSIC American Sea Island Cotton" cotton is used.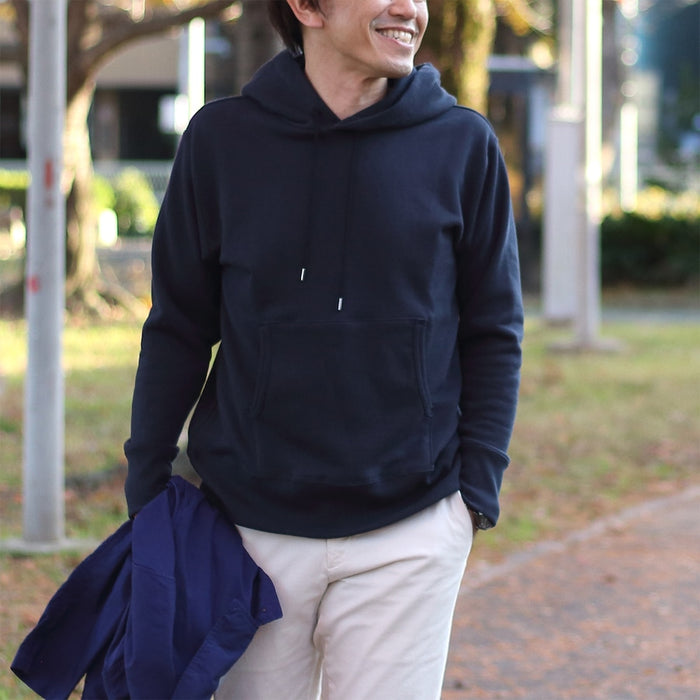 Simple design that highlights the quality of the materials.

In order to bring out the goodness of the material, it has a simple design that eliminates unnecessary things. The timeless basic design is a classic item that you can use for many years.
Recommended products for you